Powerful LED lights · 13.5'' Touch Screen · Motion detectors · Stereo Speakers · Microphone · Waterproof · Leather handle · 3 ways to hang it · Antifog layer · 20" Diameter, 1.4" Depth
NO SUBSCRIPTION · NO FINGERPRINTS · NO WATER DAMAGE
21.5″ Large Touch Screen · Motion Detectors · Stereo Speakers · Microphone · Waterproof · 3 ways to hang it · Height 31.5″ – Width 23.5″ – Depth 1.4″
NO SUBSCRIPTION · NO FINGERPRINTS · NO WATER DAMAGE
Stunning Mirror or Smart Device?
Only Hilo is Smart Enough to Offer You Both.
Get ready to be the talk of the town, with the finest stack of HILO™ Smart Mirrors. Embrace your house with High Tech Furniture, transform any wall into a magic wall. Hilo™ can be installed in the Bedroom, Bathroom, Living room, Entry Hall or even the Office.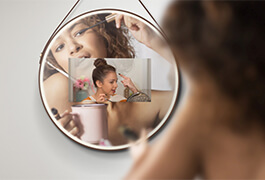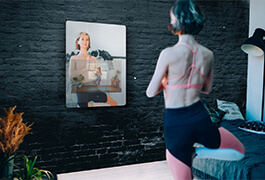 Hilo™ Is Your Personal Assistant to Start Your Perfect Day!
Hilo™ Smart Mirror is the world's finest device you can have in home. It serves all your technological needs, comes with Motion sensors, Vivid display, Touch Screen, Integrated speakers, Splash Proof and much more.
Opens your world with one tap
Get easy access to your Social Apps.
Check Weather and Traffic Information.
Add reminders.
Perfect round mirrors for Makeup application.
Perfect large mirrors for home Fitness.
Powerful LED for better lighting.
Fascinating Visible and Invisible Display.
Wi-Fi, Bluetooth and USB-ready for easy connectivity with other devices.
Built In Speakers and Microphone.
AMAZING ON THE OUTSIDE.
EXPERT CRAFTSMANSHIP INSIDE.
Aluminum-rim as base material, HILO™ fine-tunes each and every detail with expert craftsmanship, graceful and elegant as ever.
I've been using a multitude of fitness apps and accessories over the last few years and none had an effect as profound as Hilo. Being able to workout whenever I want, in my living room, but with the guidance of a professional is amazing! And when not in use it looks terrific too, love the super clean design. I highly recommend.
Carl Lapointe - Montreal
I used my friends Hilo Mirror when I was visiting her and absolutely loved it. I like to follow makeup tutorials, but I drop my phone twice and had to replace the screen, in addition Hilo Light have a strong LED light for makeup. I loved it so much I purchased one when I got back in town. Officially hooked.
Emily Kelley - New York
I find simple mirrors so boring since I have my Hilo Light! I love the convenience and flexibility. Everything I do on my phone, Hilo do it as well, A must-have in your home #Nailedit
Anna - Boston
The utility and convenience Hilo bring is second to none. I downloaded all my apps are they work like a charm. I initially used it at a friend's house and was immediately convinced I had to buy one for myself. Even I am someone who enjoys going to the gym but those days we're stuck home, and Hilo gives me more freedom and I'm more constant on my workouts. The mirror itself is sleek and looks amazing. Great company. Awesome product. Worth every penny
Mathieu Garca - Toronto
Hilo Mirrors Connect With Other Devices
HILO™ is Wi-Fi, Bluetooth and USB-ready to facilitate its connectivity.
Fitbit Wearables and other fitness trackers, Kolibree Interactive, Electric Toothbrushes, Smart Scales and Kérastase Smart Hairbrushes are just some of the many devices you can connect to Hilo.